Evil Armor Mutant Deity, Goliath

 - Megacolony - Grado 4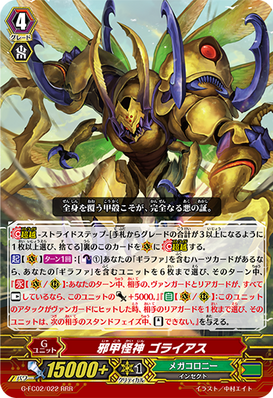 [
[
Stride
]-Stride Step-[Choose one or more cards with the sum of their grades being 3 or greater from your hand, and discard them] 
Stride
 this card on your (VC) from face down.
[ACT](VC)
[1/Turn]
:[Counter Blast (1)] If you have a heart card with "
Giraffa
" in its card name, choose up to six of your units with "Giraffa" in its card name, until end of turn, they get
"[CONT](VC/RC):During your turn, if all of your opponent's vanguards and rear-guards are at [Rest], this unit gets [Power]+5000."
 and 
"[AUTO](VC/RC):When this unit's attack hits a vanguard, choose up to one of your opponent's rear-guards, and that unit cannot [Stand] during your opponent's next stand phase."
.
Elite Mutant, Trighoul

 -Megacolony - Grado 1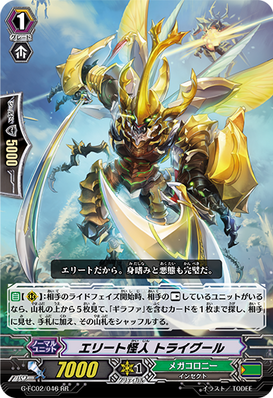 [

[b]

[AUTO](RC):At the beginning of your opponent's ride phase, if your opponent has a unit that is [Rest], look at the five cards from the top of your deck, search for up to one card with "

Giraffa

" in its card name from among them, reveal it to your opponent, put it into your hand, and shuffle your deck.
_________________
Grado 0





G-Points

: 15


Mensajes

: 21


Fecha de inscripción

: 09/12/2015


Edad

: 26



---
Permisos de este foro:
No puedes
responder a temas en este foro.